Coil Wire
Meco can provide you with small coils of our special cutting wire. You may request coils in a weight range of 1 to 50 pounds (1-25kg). Each coil will be carefully bound and wrapped.


Texturing Wires
MECO texturing wires are used along the extrusion line to provide a 'scratch face' or 'tree bark face' appearance on the brick column. Texturing wires may also be chrome plated for specific applications.
Straight and Cut Wires
MECO can provide you bundles of straight and cut wires. We can accomodate lengths from 2 to 200 inches. We can also hard chrome plate a segment of the straightened wire.


Stainless Steel Cutting Wire
Various industries, such as the food industry, have different needs for their own cutting wire. MECO cutting wires can be manufactured from stainless steel and still meet the demands of secure loops and tight dimensional tolerances. Please call 1-800-642-MECO to see if stainless steel wire is applicable to your situation.
Soldered Wire
On certain occasions, a cutter design may not allow for enough twist and wrap to hold a secure loop. MECO can solder the twist and wrap in such a situation to keep you operational. Please call us if you need this solution.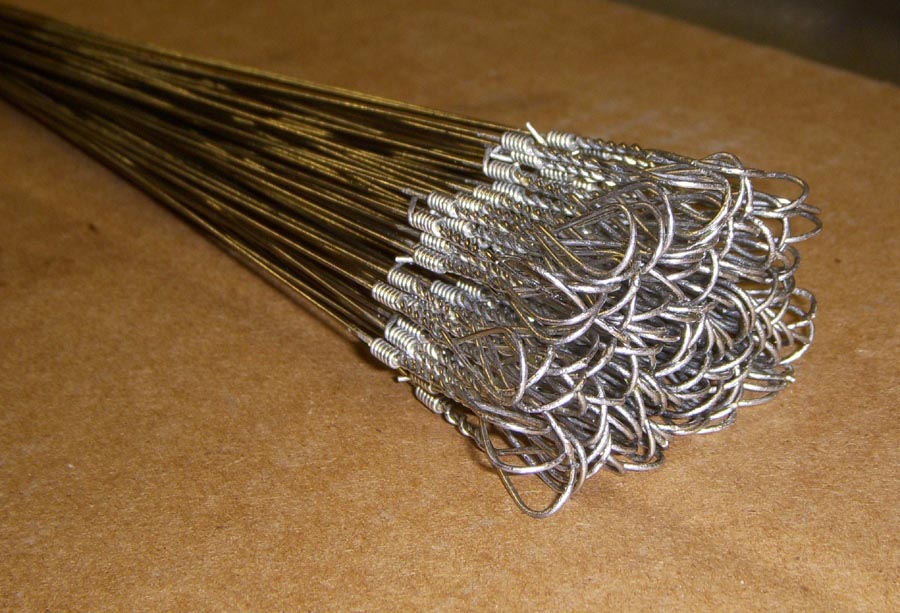 Custom Sized Cutting Wire
Sometimes our standard products may not meet your process requirements. We can work with you on using wire from 8 gauge (0.020in or 0.51mm) to 30 gauge (0.080in or 2.03mm). We can loop one or both ends. WE can even mix a loop, twist, and wrap with a spring loop. Call us so we can find a solution together or click here to submit a custom wire request.